Titles & Brief Synopsis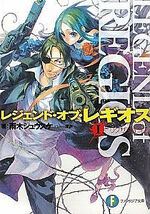 A 3-volume, science-fiction light-novel series that is set in the past world of the Chrome Shelled Regios series. Ailein and Saya grace the cover of the first volume. 

Please refer to this expanded article for more information on its characters and summary. 
Legend of Regios vol.1: Baptism of Riggzario
Where do the Filth Monsters come from? Why is the earth polluted? How did the Military Artists come about? The beginning, where it all started, the mystery of Chrome Shelled Regios and all that is related will unfold.
Legend of Regios vol.2: Awakening of Ignatius
In the future, an ominous occurence was detected. Saya awakes. Ailein and his comrades are attacked by the Beast Mask Group. At the same time, a vision of a mobile city appears. A past related to Chrome Shelled Regios.
Legend of Regios vol.3: Regios Manifestation
The annihilation of the Aurora Field through Ignatiu's ambition. One by one, people are absorbed by Faceman. To save Saya, Ailein left the earth.
Source:Japanese site
Community content is available under
CC-BY-SA
unless otherwise noted.