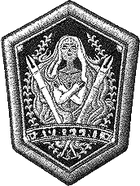 Platoons are small groups of Military Artists
formed to protect the city.
(Proceed to articles by clicking on the character images)

Platoon 17
| | | |
| --- | --- | --- |
| Platoon 10 | Platoon 5 | Platoon 1 |
PLATOON 17
Layfon "Wolfstein" Alseif

The main character of the story, who came from Lance Shelled Glendan to Academy City Zuellni to find a new path for his life.

Nina Antalk

A third year student and the captain of 17th platoon who recruited Layfon as a platoon member after recognizing his skills.

Felli Loss

A second year student and the sister of Karian Loss, who was forced into the Military Arts by him as she is a gifted Psychokinesis user.

Sharnid Elipton

The sniper of the platoon and is nearly always late to training and a casanova. He is in his fourth year.

Dalshena Che Matelna

Also called Shena by Sharnid and Dinn, she was a member of the 10th Platoon and recently a member of the 17th Platoon.

Harley Sutton

The DITE-mechanic of 17th platoon. He's Nina's childhood friend and is in the same year as her.
PLATOON 10
Dinn Dee

Captain of the 10th Platoon, which is now implied to be disbanded or inactive.

PLATOON 5
Gorneo Luckens

The captain of the 5th Platoon and the younger brother of Heaven's Blade wielder Savaris Luckens.

Shante Laite

Shante is the Assistant Commander of the 5th Platoon and a 5th Year student in Zuellni.

PLATOON 1
Vanze Haldey

Captain of the 1st Platoon and the head of military arts.
Community content is available under
CC-BY-SA
unless otherwise noted.